Cupcake
I was home over Christmas and was going through my mother's kitchen cabinets looking for baking cups and found an old box of them all the way at the back!!! The vintage boxes have the greatest printing and photo/illustrations! The colors and styles are so manipulated and fabulous!
Rhinestone earring, cupcake illustration from side of box, vintage dice, sterling silver, resin.
$450.00 SOLD
Available at Mariposa Gallery -
(see Ordering Info)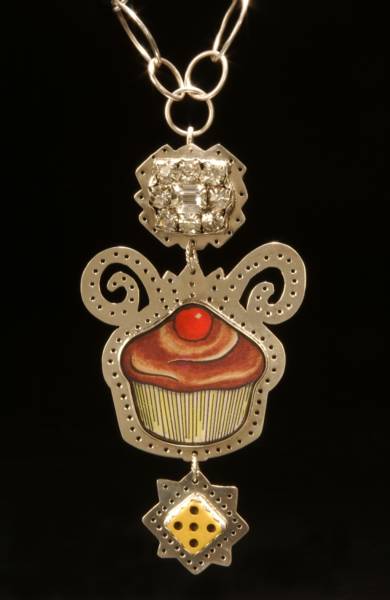 This piece was giving me so much trouble - in so many ways. It was one of those pieces you want to throw against the wall out of frustration - but you resist because throwing it against the wall would dent it. Finally I thought "Enough!" and left the studio to run some errands.

I was exiting a doorway and a really attractive man said "I could watch you walk away all day". I thought "Now THAT is a good line!" It made me feel so good that I went home and finished this piece in a flash!

Sterling, collar button- early 1900's, Victorian buckle, mica, bronze squirrel, onyx, furniture hinge - early 1900's, William Morris print, Marchasite button, almond locket set in silver.

Collection of the Artist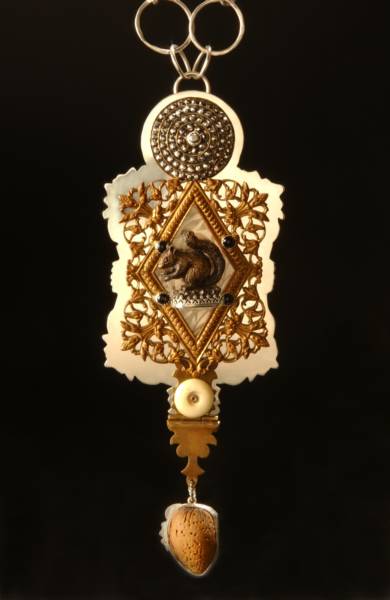 I COULD WATCH YOU WALK AWAY ALL DAY

BEACH

I love old postcards - I love the innocence of them...I love the color saturation...the weight of the paper...and when you find just the right one it is such a joy!!

Beach postcard from the 50's, watch crystal, sand, sterling, copper, malachite, shell, mica.

375.00 SOLD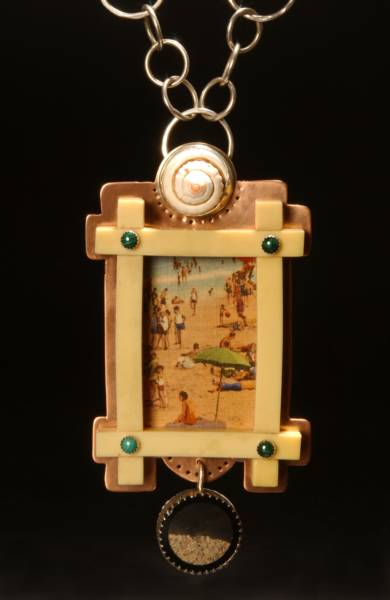 This is a particularly empowering piece! The person who owns it says she feels able to stop a speeding small child with a single "look" when wearing this! Who knew?


Sterling, vintage "Deadwood, SD" map, mica, reproduction Marshal badge, mother of pearl buckle, turquoise, citrine, onyx, bone dice, vintage Boy Scout pledge pin.

Private Collection
THAT'S MS. MARSHAL TO YOU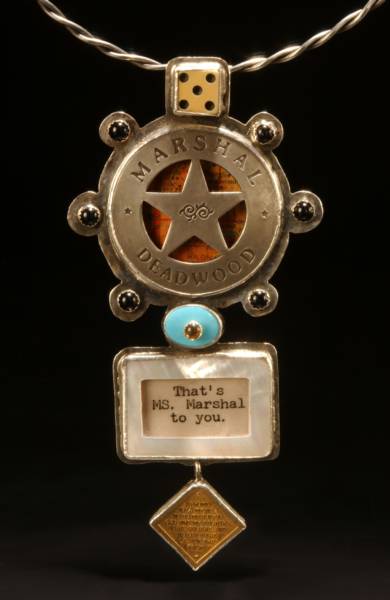 LIBBY'S MIRROR


My next-door-neighbor bought this amazing mirror for her hallway bathroom. The lines of the mirror were so great, I had to reproduce them!!

Sterling silver, printed plastic, resin, pink tourmoline.

$350.00 SOLD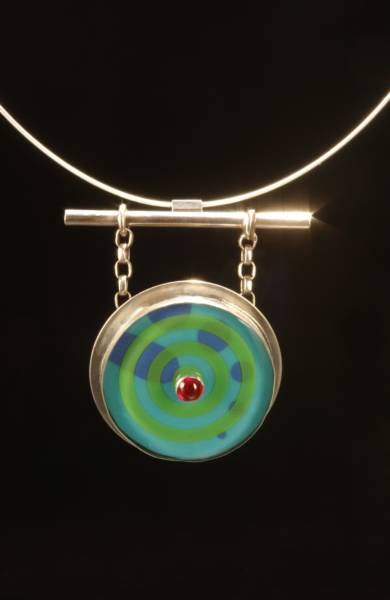 GRASPING AT STRAWBERRIES

(aka "I don't like the fur" - my husband)

I just love this thing! The mechanics of it counfounded me for two days - trying so many different ways of attaching the strawberry stage. It finally all came together and it is one of my favorites!
Sterling, opal, vintage bakalite buckle, vintage rhinestone buckle, vintage stawberry pendant watch, fur, pearl, bakalite button, mother of pearl button.
Collection of the Artist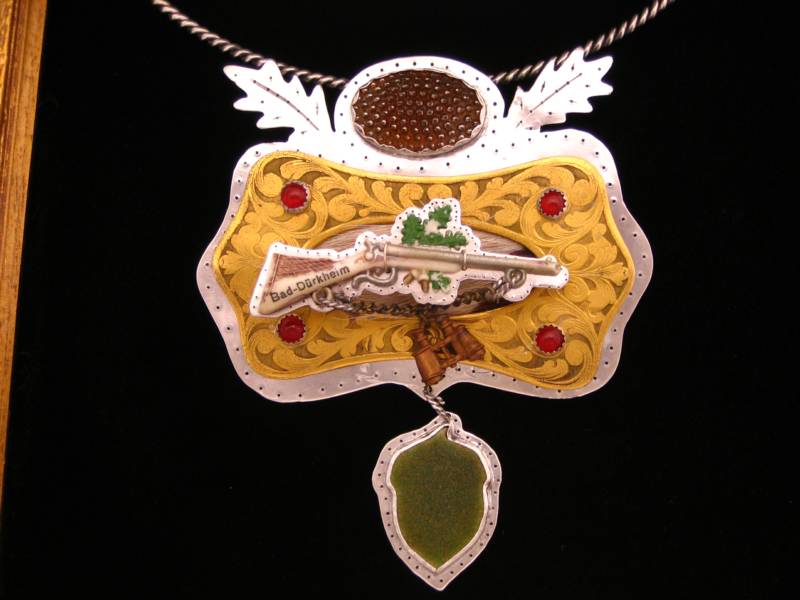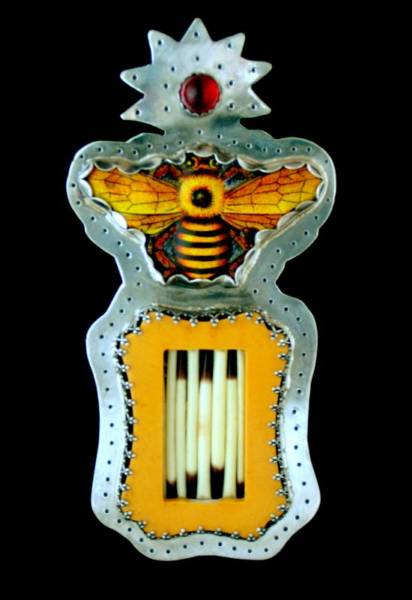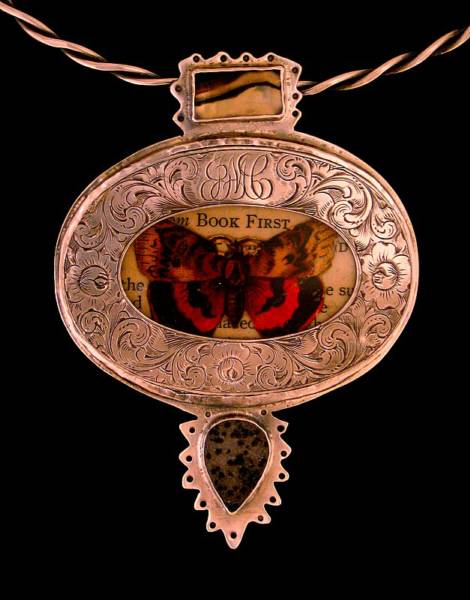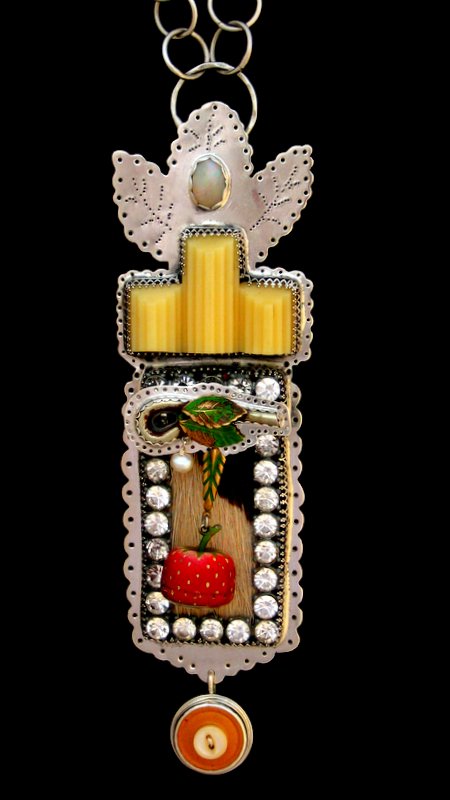 STING
I remember as a child, going to the Nelson Atkins Museum in Kansas City to see a special Asian exhibit. I remeber being totally entranced by a porcupine quill chair. It was completely covered in quills and the pattern was beautiful - it looked like upholstery from afar.
I found a bag of quills at a little antique store a few months ago and had no idea what I would ever do with them - until now.
Sterling, bakalite, porcupine quills, metal bee, garnet.
$375.00
SOLD
GERMAN HUNTING MEDAL

My very favorite piece to date. I am in love with this piece - I want to marry it. Just kidding... but it is my favorite piece to date.

Sterling, vintage glass button, vintage brass buckle, cow hide, vintage travel memento pin, copper acorn "sugar coat" enameled, vintage postcard peeking through cutout window on back, mica.

Collection of the Artist
MOTHER'S DAY
Sterling Victorian buckle, Wordsworth poem, Victorian cut-out butterfly, agate, druzy quartz, mica.


Private Collection

Ahh, the famed Roman Chicken - subject of much study and intrigue over the centuries. Just kidding. I loved the chicken, I loved the Victorian cut-out of a "Roman Man" - I named it Roman Chicken - I could have named it "I Don't Like It. The Chicken Doesn't Go With The Guy." which was what my husband said when he saw it (he's an engineer). Look for this piece in the upcoming 500 Pendants and Lockets by Lark Publishing

Brass, sterling, vintage ceramic chicken, vintage bakalite dice, watch crystal, bakalite buckle, malachite, antique book page of Wordsworth poem.

Collection of the Artist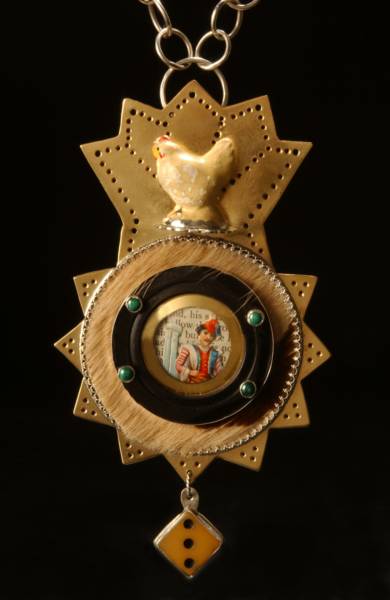 BEAR BED DOT CHANG MAI RING

I love making jewelry to commemorate events so that I or whomever owns the piece am reminded of a special time in life. "Dot is the first word my daughter ever sounded out and read...and apparently she needs a bed for her bear. We had just returned from a trip to Thailand and I wanted to commemorate that as well, so I picked up a piece of rough aquamarine while we were there and worked it into the ring! There you go - the rest of the story.

Sterling, aquamarine, glass bead, pyrite, 14 kt gold.

Collection of the Artist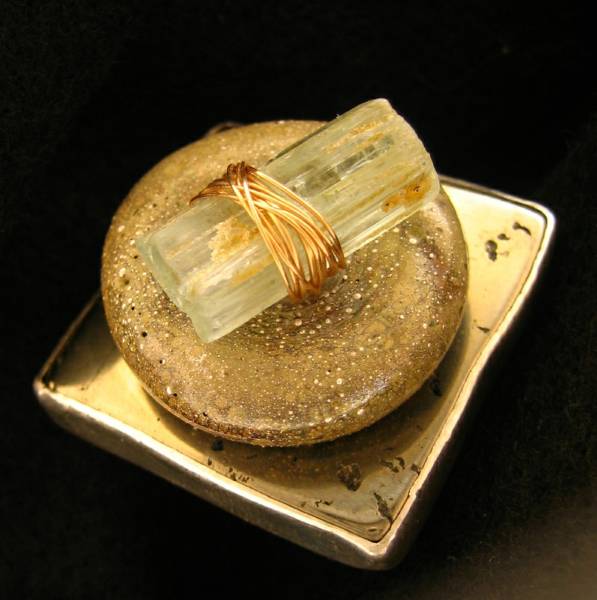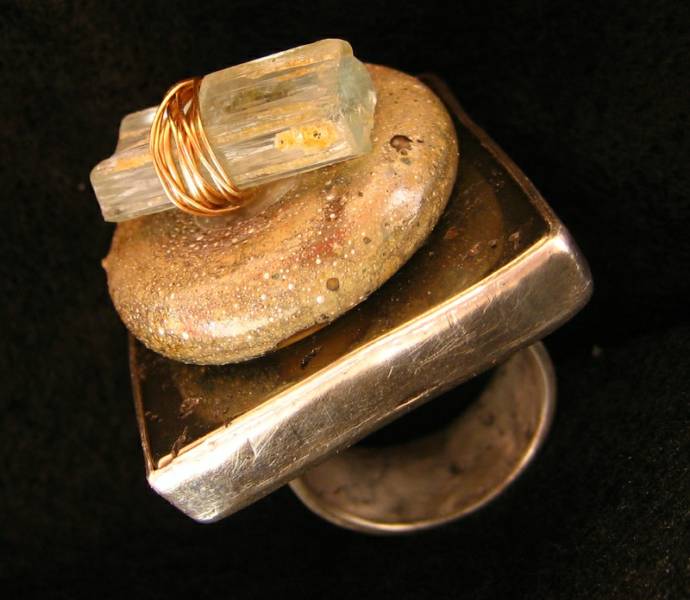 I found this picture in an antique store. It was a family picture taken in the early 70's and the two girls in the photo made me laugh. I can remember being like that with my sister! The piece was designed around this photo. Vintage everything - of course.
Rhinestone earring, Princess Phone keyring, blue topaz, pink plastic buckle, photo, letter sweater football charm, costume jewelry heart charm, Girl Scout pin, sterling.

$675.00 SOLD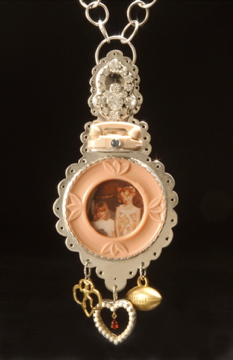 SUNDAY PAPER

Plastic, brass, mica, paper, Sterling, garnet. On the reverse is a cutout with a picture of a chair on a background of New York Times newspaper. $310.00

Available at Mariposa Gallery (see Ordering Info) SOLD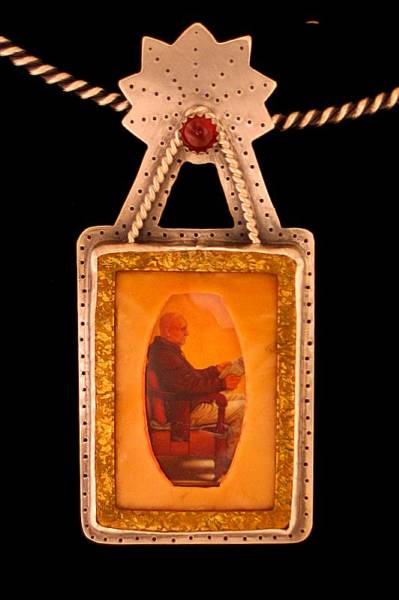 "William Moriss' Button" Pendant

I am a huge fan of William Morris Textiles - huge! They speak to me..I did not even know about him until I went to a show devoted to his work at the Victora & Albert Museum. I fell in love.

William Morris textile print, silver foiled bead, mother of pearl, sterling, resin.

$190.00
SOLD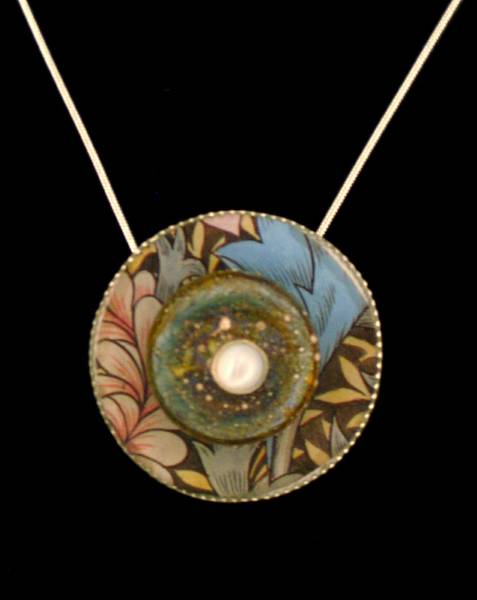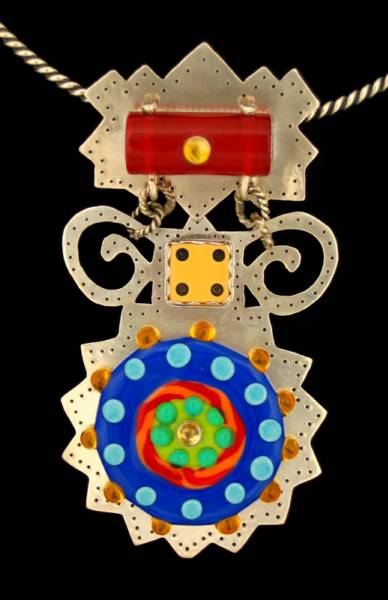 Everything is a Gamble

The blue disk bead at the bottom of this pendant is from my "Casino Series"....I was sitting at a Black Jack table and noticing how beautiful the chips were; I thought what a fantastic bead design that would be! I paired it with a vintage bakalite die and a vintage bakalite button. Riveted with two citrines on Sterling.

$750.00 SOLD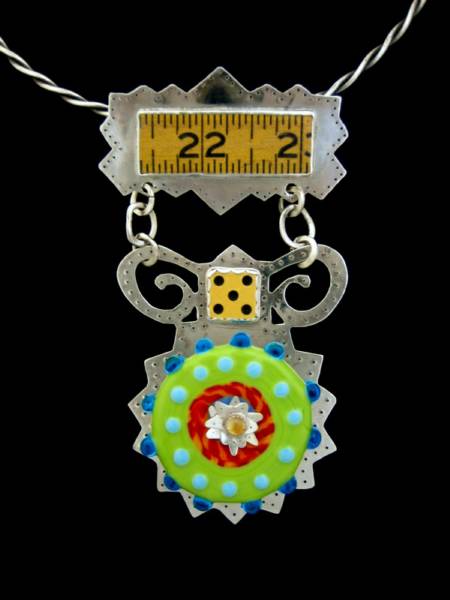 Measurable Gamble
The bead in this piece is from my "Casino Series". I was sitting at a Black Jack table and noticing how beautiful the chips were (really - have you ever noticed them? The colors and the intricate design are really wonderful). I thought "wow! What a great bead that would make!" I sat down at my torch and came up with a glass version of casino chips - hence the name "Casino Series".

Glass, vintage Bakalite die, vintage ruler, sterling, Citrine.

$850.00

Dear, Sweet
Earrings
I was home in Kansas for a visit a couple of months ago and was sitting with my grandmother when the idea occurred to her that she might have some things I could use in my jewelry. She told me where they were so that I could bring the box to her "top shelf of the guest room closet near the back in a silver box with a black top" - pretty amazing memory, especially when you know that she is 96! I brought the box to her and we sat down and went through it. The box was filled with buttons, mother of pearl buckles and some costume jewelry she no longer used and some odds and ends beads from old necklaces. We had such fun emptying the box together and looking at each thing to assess whether I could use it in my jewelry! So many things we found I could actually remember her wearing - earrings, silk covered buttons from a fabulous blue flowered hostess dress she wore...... I brought this box back to my studio and was so reluctant to use anything because of the connection of the things to her. But she wanted me to use them and that's why she gave them to me, so I thought "Ok, maybe this will be easier for me if I make something for myself, my mother, and sister from the things in this box and then we will all have a "piece" of the box. It worked - guilty emotion asuaged, I was able to make many pair of these dear, sweet mother of pearl earrings with gold "thread". The pair I made for myself have become the first thing I reach for with jeans and a t-shirt. They are just "perfect" - and dear and sweet.
Many pair available at
Mariposa Gallery
and
La Mesa of Santa Fe
(see ordering info)
Sterling, mother of pearl, 14 kt gold.
$125 SOLD